Are you sure you'd "truly like to be" this man's wiener??
The Oscars were on Sunday eve, and while I can't claim to have seen any of the films yet, I
did
see the glimmer of lights on some lovely Fred Leighton jewels.... here are some thoughts on this most recent Red Carpet:
Hands down the best dressed of the night goes to
Taraji P. Henson.
Not only is she naturally gorgeous, but the beautiful makeup and hair really polished off this fabulous Roberto Cavalli gown.... I gasped when I saw her!!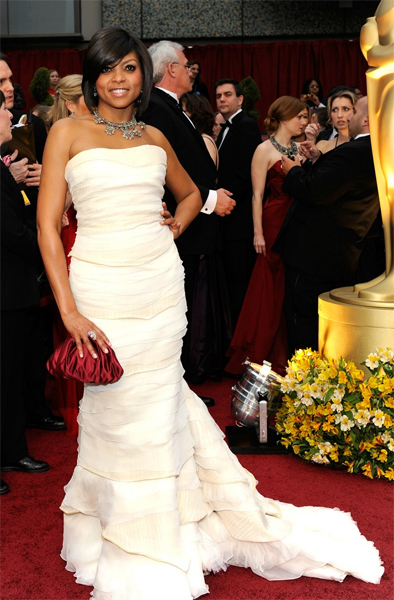 Is it weird that I feel a special kinship to her and her good style because her birthday is also 9/11?

My runners-up are Natalie Portman and Alicia Keys because of their popping pink done in decidedly non-prom fashion. Anne Hathaway was kind of in there until I saw her weird bodice issue. And her hair was a bit dead animal on one side. Kate Winslet as well, but her melodramatic acceptance speeches of late have soured me a bit. Her hair, however, was sheer genius!

Some comments to the others:
1. Beyonce -- you needn't wear sausage casing EVERY awards show. Wait... why are you here?
2. Jessica Biel -- pull up that hair! And get a hem job. And DON'T wear black pumps.
3. SJP -- I like you, your style, the dress... but that center part was a crime with your long face. I couldn't even look.
4. Penelope Cruz -- you looked lovely and always have great red carpet style, but I couldn't help but think wedding dress with your vintage gown.
5. Angelina -- lighten up, for chrissakes. Also, your look was stolen from Eva Longoria Parker circa 2005 Golden Globes.... And I also don't like you.
It was really hard to find a good pic of Eva, but you get the gist - hair half up, volume at the crown, loose curl, green earrings, black dress with sweetheart neck (sort of for ELP).....
Anywho...
You know, I HAD planned on blogging after every red carpet this year, but clearly that never happened. Oh well. There's always next year ;-)
xoxo