Would you take a look at this? I mean, granted some credit can be given to Dan, Candy and GOD, but the makeup.... all me, baby. And can you believe how gorgeous she is???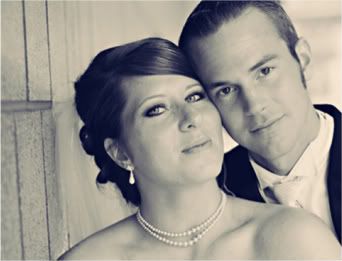 Doing makeup for weddings is on the top of my list of things that make me happy. There's nothing greater than making a bride feel AMAZING on her wedding day. And when I step away and watch them look at themselves in a mirror, that's one of my favorite moments. Or when they turn to their mother, best friends, etc. and they all bask in her glow and rave about her beauty, I know I've made it happen for that bride. One of the UTMOST important thing about any woman's wedding day is that she feel stunning, radiant and gorgeous.

My process for preparing for the day always involves finding out more about the bride's usual makeup, what she wants to accentuate, her trouble spots, and a photo helps too. Every woman who wears makeup has their "it" things, whether it be flawless looking, non-oily skin, lots of bronzer, mascara mascara mascara, beautifully blushed cheeks or a pension for heavy eyeliner. Taking those into consideration immediately puts her at ease to know someone is going to give the same time and attention to those as she would for a special occasion.

I literally study these things and the photo(s) before the big day. I try to determine bone structure, how to best accentuate the eyes, skin tones and texture, eye color, etc. When asking for photos, I always ask for a picture that she feels she looks gorgeous in. That helps me to determine how she wants to look in photos. If she's 50lbs thinner in the picture, I'll be sure to contour her better. If she's got a nice glowing summer tan, I'm looking for where her face tans.
The point of all this? I love to do wedding day makeup and I'm fucking awesome at it. That's my point.
(But secretly, it still intimidates me just a little!)