It's not just for kids anymore, folks.
[Despite pouring one third of my cup down my chest and shirt this evening,] I love hot chocolate. The Williams Sonoma REAL stuff. I drink it at least twice a week during the winter. Perhaps not the best of dietary supplements, but man does it bring me joy :-) And that's what matters.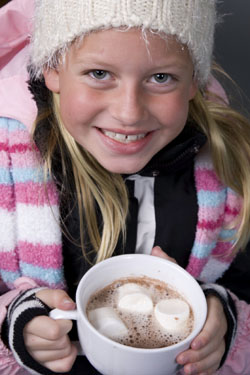 See?
Joy.
A fuzzy hat and adorable tooth gap helps too.
What did not, however, make my weekend was the nasty dose of reality..... our finances suck, we're not really in the place to buy a house (I sooo wish we could), and I might not even be able to manage school... ever. Where's a surprise inheritance when you need one??
Fingers crossed for a nice cushy tax return to start things moving and we'll see what happens from there.
Now I kinda need more hot chocolate :-(